Reimo camping boxes for your car: VW T5, VW T6, Caddy and many more
Reimo camping box - the smart alternative
The Reimo Camping Box Ideal for the casual camper or the beginner, the camping box offers the clever alternative. The camping box offers the possibility of comfortable camping with your own car without large investments.
Camping box for VW Bulli, T5, T6, Caddy and many more
Convert your VW Bulli, VW T5, VW T6, VW Caddy or your car from another manufacturer with a camping box into a camper in no time at all. And quickly convert your mini camper into a family car suitable for everyday use. Everything is possible with the camping boxes from Reimo.
The camping box - for spontaneous camping trips with your car
With a camping box you have the opportunity to make spontaneous camping trips with your own car . A camping box is a versatile piece of furniture that can be installed in different vehicles with just a few hand movements. We offer different camping boxes, which are suitable for small high-capacity combinations up to the bus or transporter, depending on the vehicle size. The camping boxes are easily attached to the vehicles and can be removed again in just a few simple steps. Most of the time, when not in use, the camping boxes can be broken down into small parts so that they take up little space in the garage or in the basement. When assembled, they offer the comfort you want when camping.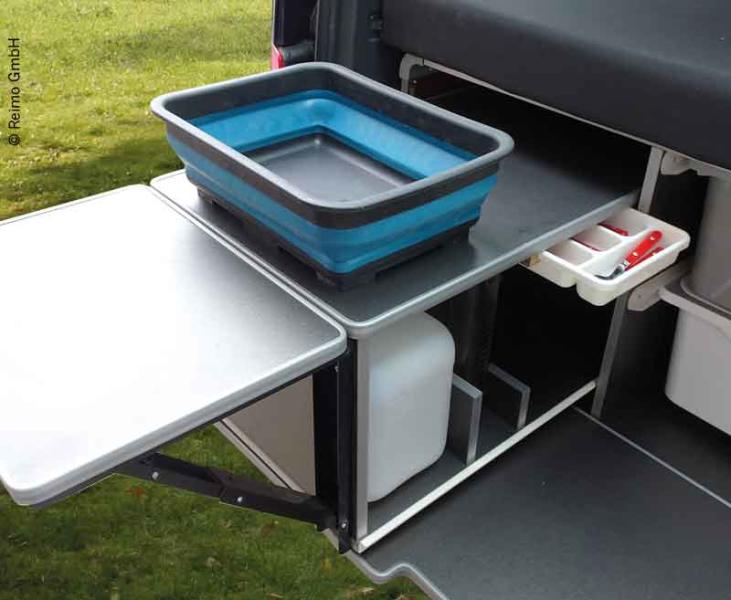 Camping box in the trunk - with camping kitchen
The camping box in the trunk is the companion for your camping holiday. The camping box is space-saving in the rear of the vehicle and offers a practical camping kitchen that can be used outdoors. In addition to a gas stove for cooking, the camping box also hides a flushing facility with a water system. Of course, there is still enough storage space to store various camping utensils. This means that food and outdoor clothing find a sensible and safe place. There is usually space for an optional cool box to cool food or drinks.
The camping box bed - for comfortable nights in the car
The camping box bed gives you comfortable nights in the car . Gone are the days when you had to sleep in a tent on an uncomfortable air mattress while camping. Sleeping in a comfortable bed is part of the camping box. Various bed systems for the camping boxes are available as accessories. These can be folded or pushed so that a large sleeping area is created across the entire width of the vehicle. With the bed assembled, you can turn the vehicle back into a touring car with up to 5 seats.